We Care for Your Lawn
Like it's Our Own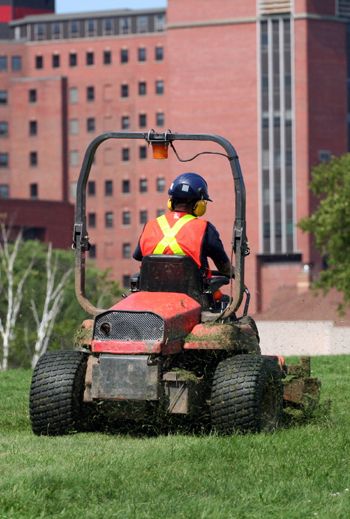 Our History.  
In 1997, Scott Davis, a guy with little money, a strong back and a desire to work set out to change the grounds maintenance industry. Times were tough in the beginning, but Scott was determined and as word of mouth spread, his reputation for providing quality 
landscape maintenance
 began to pay off.
 As time went by and opportunity arose, he began to add to his 
list of services
 and trucks to his fleet. Well groomed, clean equipment, superior follow through, and quality valued service was his philosophy.
Today, Scott Davis, enjoys running the day-to-day operations of SR Davis. This award winning landscape company now employs over 25 committed members and maintains a top-of-the-line fleet of service equipment. His grounds maintenance and hardscape divisions service satisfied clients in the Greater Dayton, Cincinnati and Northern Kentucky areas. Although he aggressively pursues the newest innovations, his original philosophy has never changed of presenting a well groomed team, clean operating equipment, and the highest quality customer service.
 Our mission
 is very simple. To create and maintain mutually beneficial relationships with our residential and commercial customers by providing their landscapes with the highest quality of standards and workmanship. We accomplish this with intelligent planning, attention to detail and superior follow through.
 Our Team
 of professionals vary in knowledge and experience but share the same common thread: an enthusiasm to work in this industry and a drive to be at the top. Upon arrival at your property they will inform you of the landscaping services they will be providing, answer any questions, and confirm your approval before departure.
 Our Future
 depends solely on the trust and satisfaction of our customers. SR Davis is not content to rest on previous accomplishments. The technology and resources of this industry are growing at a record pace and SR Davis is continually at the forefront to implement new ideas to provide better results.
No matter what your situation is, SR Davis is committed to exceed your needs and expectations in all aspects of our work. 
Contact us today to learn more about our services or to request a free estimate. We look forward to hearing from you!
SR Davis provides a professional landscaping service that is impossible to beat. The quality of work and customer service is impeccable! By far the best that I have experienced in this industry. I would recommend their services to anyone.



~Angie Walsh, Property Manager, Georgetown of Kettering Apartments,

Kettering, OH
"From the very beginning of our project, Steve and the guys from SR Davis exemplified customer service.  They worked with us several different times even before starting the project to ensure that the design, the timeline, and the costs worked for us.  Once they begin excavation, they were extremely efficient and conscientious from start to finish.


Steve was continually helping us with the creative aspects of the project, up to even being willing to make changes on the fly to accommodate our wishes.  In fact, the entire crew couldn't have been better in every way. Needless to say, the finished product was exactly what we had hoped for, and we look forward to enjoying it for years to come.  We would, and already have, recommended SR Davis to others."


~ Chris Christensen, Springboro, OH
SR Davis provides quality work, prompt service, and friendly personnel. They do great work whether it be maintaining the grass or building retaining walls. I would recommend their services to other communities that need to feel that their needs are cared about and will be taken care of!

 

~Kelley Geerkin, Property Manager, Villages of Wildwood, Fairfield, OH
"At the Connor Group, we pride ourselves on customer service, accountability, attention to detail, hard work and innovation.  And we require the same traits from our vendors, whom we expect to provide the best service and best quality at the best price. We're grateful for our relationship with SR Davis, which helps us provide a first-rate living experience for more than 30,000 Connor Group community residents'.
~Larry Connor, The Connor Group,
www.theconnorgrp.com
Contact Us to

Request Service
Give us a call or submit your information using the form below